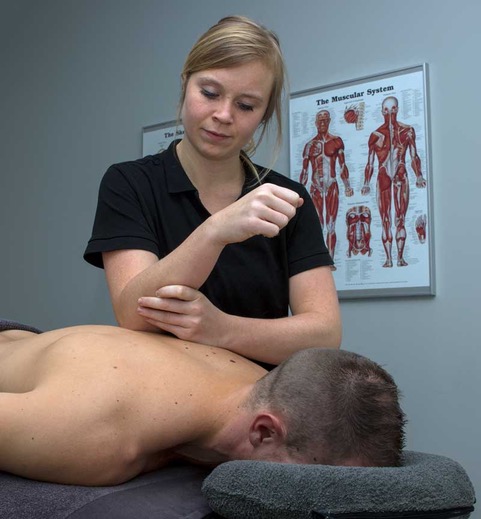 Wat zijn triggerpoints?
Triggerpoints staan bekend als spierknopen. Het zijn zeer lokale verkrampingen in spieren waar als gevolg van een gebrek aan doorbloeding en zuurstof een overgevoelige plek ontstaat. Van buitenaf zijn deze spierknopen voelbaar als pijnlijke harde bobbeltjes of strengetjes. Wanneer je er flinke druk opgeeft, kan dit een uitstralende pijn opwekken in een ander deel van het lichaam. Triggerpoints kunnen in alle spieren in het lichaam ontstaan, en altijd op vaste plaatsen. Namelijk daar waar het zenuwstelsel informatie op de spier overbrengt. Vaak is de oorzaak overbelasting, stress of een slechte houding, maar ook een val of ongeluk, te weinig beweging of slechte voeding kunnen leiden tot het ontstaan.
Hoe ontstaan triggerpoints?
Triggerpoints ontstaan door overbelasting van de spier. Dit kan door te lang of te zwaar aanspannen van de spieren, door een trauma, ongeluk of door stress ontstaan.
Het uitstralingsgebied
Elk triggerpoint heeft een specifiek pijnuitstralingsgebied dat in veel gevallen een ander gebied bestrijkt dan de plek van het triggerpoint zelf. Een triggerpoint in de kleine bilspier, veroorzaakt een pijn die uitstraalt tot in de enkel. En veel spanning in de monnikskapspier, kan leiden tot hoofdpijn (zie plaatje). Ook kan het voorkomen dat uw therapeut een spier bij uw schouderblad behandelt, terwijl u dit in de uw arm voelt. Elk triggerpoint heeft dus een uniek pijnpatroon dat soms totaal andere lichaamsdelen bestrijkt. Door deze kennis blijken een hoop "vage" pijnklachten nu wel verklaarbaar en behandelbaar.