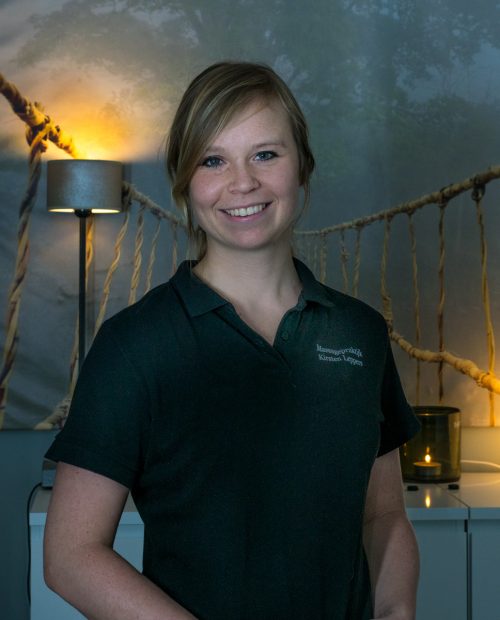 Reserveren kunt u via e-mail en telefoon:
Kirsten van den Bos – Leppers
Praktijkadres: Sportlaan 7/9, Veenendaal (Bij La Vita lifestyleclub ma- di- do- vrijdagen)
Scheepjeshof 134/136 3901 CX Veenendaal (Bij fysiopraktijk Scheepjeshof op de woensdagen)
Beide locaties zijn toegankelijk met de auto, wachtruimte is aanwezig en toegankelijk voor minder validen.
E-mailadres: info@massagepraktijkleppers.nl
Telefoon: 06-11608552

KvK: 63046113

BTW nr.: NL002333505B95
Annuleren
U kunt uw afspraak kosteloos annuleren of verzetten tot 24 uur voor de gereserveerde tijd. Uiteraard stellen wij het op prijs als u uw reservering ruim van te voren annuleert i.v.m. onze planning.
Wilt u de afspraak binnen 24 uur voor de gereserveerde tijd nog afbellen, verzetten of komt u niet op de afspraak, dan brengen wij de kosten van de afspraak in rekening.
Beroepsvereniging CAT level 3
Ik ben aangesloten bij de beroepsvereniging CAT vergoedbaar en Complementaire kwaliteitstherapeuten, op dit moment ben ik level 3. Kijk bij 'Prijslijst' of jij in aanmerking komt voor een vergoeding van mijn behandelingen.
Ik val als CAT-therapeut onder Wkkgz-klachtrecht en tuchtrecht bij de Geschilleninstantie Alternatieve Therapeuten (GAT). GAT is een rijks erkende en volledig onafhankelijke Wkkgz geschillencommissie. Voor meer informatie over mijn klachtenregeling zie: https://gatgeschillen.nl/
Ik werk als CAT-therapeut volgens de richtlijnen van de GAT-beroepscode. Voor meer informatie zie:
https://gatgeschillen.nl/beroepscode/
https://kwaliteitstherapeuten.nl/